My sophomore year of high school, we moved to Utah. My new high school was much larger than where I had gone to school before. The culture felt totally different. It was the first time in my life that not everyone around me was Protestant. When I got ready for school that morning, I put on a cross necklace that I had received as a gift. I did it without even thinking.
When I got to school, I noticed a few people stare at me as I walked down the hall to my locker. A few people watched me, and then quickly turned to whisper with their friends about me. I thought it was probably because I was the new girl at school. I went to my first class of the day early because I didn't really know any of the other students yet, and sat at my desk.
I got out the textbook for the class and flipped through the pages. And then someone walked up to me and asked a question that I think a lot of people had been thinking: "Why are you wearing a cross necklace? Isn't that like wearing a murder weapon around your neck?"
"Not exactly," I said softly. Honestly, no one had ever put it that way to me before. I didn't really know what to say.
"Wouldn't that be like wearing a revolver around your neck?" asked another student tauntingly.
"It's not like that!" I said defensively, though I really didn't know why it was different.
No one had challenged me on wearing a cross necklace before. Everyone did it back home. Even though I don't like conflict, I purposely looked for a more gruesome cross to wear the next day. I chose one that had been made out of nails.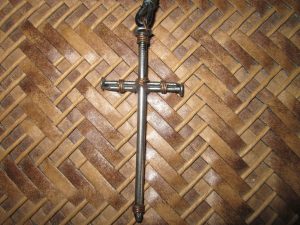 I still wear cross necklaces on occasion, but not in the way I did in high school. The cross isn't just a bit of bling for me. It's not a fashion accessory, or even a statement of who I am. On this Good Friday, I want to share some reasons that the cross is important to me. When I wear a cross on my body, I am thinking of these things.
1. The cross is not about violence. In fact, the cross is about the opposite – love. Crucifixion was a normal, Roman method of executing criminals. They chose it because it was violent, disturbing to watch, and a terrible way for someone to die. They did it publicly to show onlookers an example. In the face of violence, God chose submission and love.  Rather than retaliate, God chose the way of peace, submission, and grace.
2. The cross was an ordinary thing made extraordinary. In the 21st century (especially in places where there is freedom to worship), the idea of a public crucifixion is horrifying. It is far from ordinary. It is so outside of our ordinary that we fixate on it. But, in Rome, crucifixions were completely ordinary. Most likely lots of people were crucified on the day Jesus was hung on the cross. Crucifixion was to Rome what lethal injection is to the United States death penalty system – normal. What was extraordinary about the cross was what God accomplished through it. The cross was ordinary, gritty, and gross. God used it for something extraordinary.
3. The cross reminds me that God enters into my suffering, and can understand it.  As Hebrews 4:15 puts it: "For we do not have a high priest who is unable to sympathize with our weaknesses, but we have one who in every respect has been tested as we are, yet without sin." The cross isn't about God inflicting violence. The cross isn't justification for suffering. God was present at the cross – not removed from it. As Nadia Bolz-Weber writes:
"This is our God. Not a distant judge nor a sadist, but a God who weeps. A God who suffers, not only for us, but with us. Nowhere is the presence of God amidst suffering more salient than on the cross. Therefore what can I do but confess that this is not a God who causes suffering. This is a God who bears suffering". [1]
4. The cross reminds me that it isn't about me. It's not up to me to do enough of the right things to get into heaven. It isn't about looking the part, or even acting the part. The God I serve and worship isn't one who demands that I climb the spiritual ladder of success on my own. I serve and worship a God who comes down. The cross is a big and bold reminder of the lengths God is willing to go as he pursue us.
I suppose when I was asked why on earth I would wear a cross around my neck, the appropriate response would have been, "It's complicated." But, through the cross, my God made a way where there hadn't been one before. Through the cross, my God showed the lengths he was willing to go for us. Through the cross, I see the ordinary made extraordinary. And it gives me so much hope.
————————————-
[1] Nadia Bolz-Weber, Pastrix.