My kids love playing with Lalaloopsy Littles dolls, and they play pretty rough with them. While they play house, school, and other imaginative games with their dolls, they wind up getting scuff marks all over the disproportionately large heads these cute little dolls have. They have even scuffed their dolls on the very first day after getting them. I thought there must be away to get rid of those scuff marks, so I did an experiment.
And, it worked!
All you need is:
Baking soda
Water
A bowl and spoon
A clean, dry washcloth/towel
Either another washcloth or some cotton swabs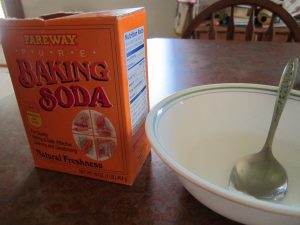 Make a paste with baking soda and water. Using either a washcloth or cotton swab, rub paste on the scuff mark in a gentle, circular motion. It may take a little elbow grease to get the scuff mark off. Be patient, and keep working at it. But, be sure you don't press too hard. Baking soda is a gritty substance, and you don't want to leave scratches on the toy. Repeat as necessary.
Rinse the toy under warm water, but be careful if the toy has any metal on it, or has eyes that might be metal on the inside that rust. The Lalaloopy Littles are all plastic, so rust isn't really a concern on these. With the clean, dry towel, dry off the toy. Here's what Specs looked like after a baking soda treatment.


Pretty good, huh?
I hope this tip works out for you! Just a note of caution: once your kids see how well this works, they may ask you to clean all their toys!