I have heard many sermons on the different kinds of love in the New Testament. I was always told that there was friendship love, romantic love, and the perfect love of God – unconditional love. I grew up believing that agape love was an unattainable love. It was the love God had for me, and the kind of love I should try to have for God, even though I could never do so perfectly.
I was told that agape love was divine love, love without condition, love that was perfect.
And, while that definition may mostly hold up as we read Scripture, even a very cursory look at the way the word agape is used throughout Greek literature shows that the word is used to describe more than divine love. Similar to the English word "love," the word agape is used of food, of relationships, of affection, and of God. What's different about the word agape is that it includes the idea of preference or inclination. If I love someone with an agape love, I have inclined myself toward that person. I care about that person. I choose them in some way. When used of God, agape teaches us that God chooses us, inclines God's self towards us, and cares for us passionately.
My wondering about the meaning of the word agape led me to 1 John 4:18: "There is no fear in love, but perfect love casts out fear; for fear has to do with punishment, and whoever fears has not reached perfection in love."
Perfect love (teleia agape, teleia – end goal, full-grown, mature) seems to repel fear, which piqued my interest as I tried to discern what love's opposite might be. So, I decided to dig into that word fear, and what I found was surprising.
The word "fear" comes from the word φόβος (PHAH-boss), which is where we get our word "phobia." While this word has to do with fear, it means more than that. Phobos fear is a fear that makes you flee. It comes from the verb that means "to withdraw." Even though phobos is often translated as fear, in the time following Homer's writings, it was often used to mean "flee" or "withdraw." And this makes sense if you think about how we often use this word today. Many people are afraid of snakes, but a snake phobia means avoiding snakes at all costs. Many people have a fear reaction when encountering spiders, but a full-blown phobia means orienting our lives around staying away from the possibility of encountering spiders.
Agape means to incline yourself toward someone, to invest, and to care. Phobos means to lean away, to flee in panic, to withdraw. When applied to relationships, agape means choosing to invest our lives, our cares, and our concerns in and with someone, to choose them. Phobos means leaning away from, avoiding, and removing ourselves from others. Love leans toward while fear leans away.
Elie Wiesel understood this when he wrote these famous words: "The opposite of love is not hate, it's indifference. The opposite of art is not ugliness, it's indifference. The opposite of faith is not heresy, it's indifference. And the opposite of life is not death, it's indifference."
If love is caring for the other, the opposite of that would be choosing not to care. Sometimes we do not care because we are afraid of the other. Sometimes we do not care because we are afraid of getting hurt. Indifference, or lack of care and compassion, is a byproduct of fear. We choose not to care because we are afraid of something. We are afraid of the other person, or we are afraid of being hurt. Love leans toward others; fear and indifference lean away.
Jesus says we ought not to be repelled by our enemies. We aren't to withdraw from them or choose to be indifferent to them. Instead, Jesus tells us to choose our enemies, to care and to pray for them (Matthew 5:44). Interestingly enough, the word translated as "enemies" means "hated ones." Love the ones you hate. Rather than fear them and flee from them, lean towards them. Come close and love. Hard words, indeed.
Anti-Advent Candle Uncovering and Lighting – week 4 – Fear
For week four, I am beginning with one candle covered and three uncovered. I am using small terracotta pots, but you could use whatever you would like.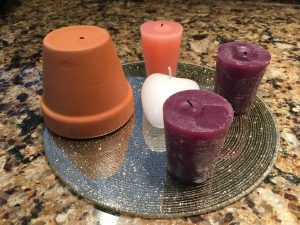 Reader 1: In the book of Matthew, Jesus says, "You are the light of the world. A city built on a hill cannot be hidden. No one after lighting a lamp puts it under the bushel basket, but on the lampstand, and it gives light to all in the house" (Matthew 5:14-15). Jesus extends to us perfect love which casts out all fear.
Reader 2: We confess that we often cover over our love with fear. Sometimes we are so afraid of caring that we are overcome with indifference. Yet, Jesus continues to offer us perfect love, which sets us free to be in relationship with God and with each other.
Reader 1: In 1 John we read, "There is no fear in love, but perfect love casts out fear; for fear has to do with punishment, and whoever fears has not reached perfection in love."
Reader 2: Even when we are afraid, Jesus extends his love to us. His love works within us to dismantle everything that keeps us from God and from our neighbors.
Reader 1: Today, we relight the candles of hope, peace, and joy. <light three candles candles>. We remove the cover of fear and indifference, and we light the candle of love. <remove cover and light fourth candle>.
Reader 2: We offer to God this day our imperfect love, our tentative love, our uncertain love, and our overflowing love.
All: This season of Advent, remind us, O God, that you meet us where we are. As we journey with you into the stillness and toward the hidden miracle of your coming, fill us with your perfect love. May your light shine brightly and fill our homes and our hearts. Amen.
---
---
For the rest of the Anti-Advent Wreath Project:
The Premise
The Anti-Advent Wreath – week 1 – Resignation
The Anti-Advent Wreath – week 2 – Separation
The Anti-Advent Wreath – week 3 – Cynicism