One-by-one we're opening all the doors on our Advent calendars as we count down the days until Christmas. As each day passes, we get closer and closer to single digits…only a few days left to go. Despite all my best laid plans and preparation, the deadline for mailing out packages and having them guaranteed to arrive before Christmas has passed me by. My Christmas newsletter sits in the printer, not one having been mailed out yet.
It is easy to talk down to myself about how I've failed miserably to keep up with my list despite my best intentions not to leave everything for the last minute this year.
It has become almost a part of the Christmas to-do list for me to feel chronically behind and unfashionably late.
It is usually at this point – just past the halfway point of Advent – that I start to panic and realize that I bit off more than I could chew.
Maybe that is you today, too.
It is also at this point that the third Sunday of Advent calls out to me and gets my attention. The third week of Advent is called Gaudete Sunday – Gaudete meaning "Rejoice!" This is the Sunday when we light the pink candle in our Advent wreaths, pink because this Sunday is a reprieve from the fasting and penitence and longing. The third Sunday of Advent is all about joy, and it usually comes when I'm feeling more stressed that joyful.
When I'm so busy that I'm missing it all, the third Sunday of Advent calls out to me, "Look up! Take a moment! Don't let it all slip away!"
Rejoice in the Lord always; again I will say, Rejoice. Let your gentleness be known to everyone. The Lord is near. Do not worry about anything, but in everything by prayer and supplication with thanksgiving let your requests be made known to God. And the peace of God, which surpasses all understanding, will guard your hearts and your minds in Christ Jesus. – Philippians 4:4-7
It is also at this point in the Advent journey that I start to be bombarded with conflicting messages about what joy really looks like. Is joy receiving some Kohl's cash like the commercial says? Or maybe My Comfort and Joy is a peppermint mocha from McDonald's, like their ad campaign promised a few years back.
This is where I found myself as I considered what the opposite of joy might be. Is joy's opposite sorrow? If so, the antidote for sadness would bring about joy. Maybe a little retail therapy, some comfort food, or a five mile run would be the right answer.
But, just as I struggled with hope being an emotion, I struggled with joy as well. Is joy happiness that lasts for a long time, or is it something different?
The Greek word for joy is χαρά (pronounced kah-RAH).  As a verb, the word for rejoice is  χαίρω (pronounced KAI-roh). Related to both of these words is χάρις (KAH-riss), the word for grace. All three of these words come from the same root, which means their definitions at their most basic are the same. Joy, rejoicing, and grace are all interconnected. Joy is not a mere emotion, it is the experience of grace. When we rejoice, we are shedding the cynicism that fills us with bitter distrust, and we are receiving the grace God is giving us with abundance.
Joy is grace received.
The opposite of joy is not sorrow, but a refusal to receive grace, or cynicism. Cynicism is not a healthy skepticism. Cynicism is not wise discernment. Cynicism is a posture of bitterness, a deep distrust that keeps one from being open to others.
Hand-in-hand with cynicism is perfectionism. Perfectionism is cynicism turned inward, and it is something I know a whole lot about. I wish I could say I was a recovering perfectionist, but I'm not quite there yet. (Isn't that a very perfectionist thing of me to say?) But, through this anti-advent exercise, I have come to realize that in my pursuit of perfection, and in my inherent distrust of my ability to even come close to achieving it, I have missed out on a whole lot of joy.
After a year of feeling like I was walking around in a fog, I reached out and made an appointment with a counselor. She listened to me and helped me to put what I was feeling and experiencing into words. Most of the time, she said very little, and she never gave advice. But, one day while I was listing off my own failings and shortcomings, she asked me, "What would you say to someone who was sitting in your office and saying these things about themselves?" I responded that I would tell them not to be so hard on themselves. Everyone makes mistakes.
She looked at me and said words that I've never been able to forget. She said, "April, you give grace to everyone except yourself."
Cynicism turned inward is perfectionism, and perfectionism refuses to receive grace. Perfectionism resists grace because perfectionism is about proving our own worthwhile-ness. God's grace calls us to set down that endless pursuit of perfection and to receive. We are called to receive grace as we are, not as we would like ourselves to be. Somehow, in that grace we are transformed and made new.
I love the way Anne Lamott put it: "I do not at all understand the mystery of grace–only that it meets us where we are but does not leave us where it found us. It can be received gladly or grudgingly, in big gulps or in tiny tastes, like a deer at the salt."
Anti-Advent Candle Uncovering and Lighting – week 3 – Cynicism
For week three, I am beginning with two candles covered and two uncovered. I am using small terracotta pots, but you could use whatever you would like.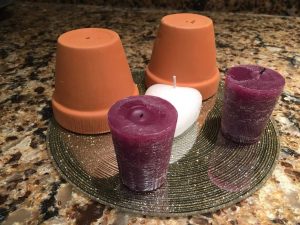 Reader 1: In the book of Matthew, Jesus says, "You are the light of the world. A city built on a hill cannot be hidden. No one after lighting a lamp puts it under the bushel basket, but on the lampstand, and it gives light to all in the house" (Matthew 5:14-15). Jesus freely offers us grace. As we open our hands to receive this grace, our hearts are overwhelmed with joy.
Reader 2: We confess that we often cover over our joy with cynicism and perfectionism. Yet, Jesus continues to offer joy and abundant grace.
Reader 1: Jesus says, "I have said these things to you so that my joy may be in you, and that your joy may be complete" (John 15:11).
Reader 2: Even when we feel unable to continue in joy, Jesus continues to extend his joy to us. His joy comes to us as grace upon grace.
Reader 1: Today, we relight the candles of hope and peace. <light first two candles>. We remove the cover of cynicism, and we light the candle of joy. <remove cover and light third candle>.
Reader 2: We offer to God this day our tears of joy, our shouts of joy, our struggle for joy, and our songs of joy.
All: This season of Advent, remind us, O God, that you meet us where we are. As we journey with you into the stillness and toward the hidden miracle of your coming, fill us with your everlasting joy. May your light shine brightly and fill our homes and our hearts. Amen.
---
---
For the rest of the Anti-Advent Wreath Project:
The Premise
The Anti-Advent Wreath – week 1 – Resignation
The Anti-Advent Wreath – week 2 – Separation
The Anti-Advent Wreath – week 4 – Fear