About seven years ago, I was asked (along with all the other ladies in my women's ministry group) to bring two pies to the annual soup supper fundraiser. I was so excited. I love baking, and even though I had never made a homemade pie before, I was really excited to give it a try. I spent a lot of time searching for pie recipes online. I came across several that looked both delicious and easy enough for my novice pie-making skills. The pies turned out pretty well, and then I brought them over to the church.
Being the new kid in town, I immediately looked over at the pie table for some indication that I had brought the right kind of thing for the supper. My pies looked nothing like the pies on the table. They all had exquisitely hand-fluted crusts or lattice tops. The crusts were clearly homemade. The fillings were not from a can. And suddenly, I felt inadequate. No one said anything to me, but I immediately created all kinds of scenarios in my head that involved people noticing the mediocrity of my pies, the kinds of scenarios where everyone who came for the supper refused to take my pies because they weren't good enough.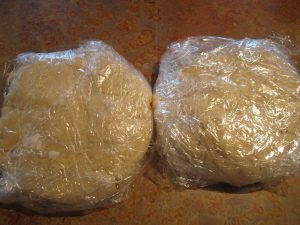 The next year, I wanted to do better. I tried harder. I looked up crust recipes. I could do this. And then I set to work. My crust flopped. It kept falling apart. I couldn't roll it to the right thickness without it crumbling, and then I would push the dough together and try again. I almost never have a problem watching my mouth in front of my children, but I soon discovered how little control I had over my tongue…or over my emotions. With my head hung low, I made a trip to the local grocery store and bought a refrigerated pie dough. I did hand flute my crusts, and they looked pretty nice, but once again I told myself how lousy they were compared to everyone else's.


It's soup supper time again, and this year I have once again set the bar high for myself. I have two recipes I want to make, and I'm sure I can do the filling. But, I have bugged all of my foodie friends for their foolproof crust recipes, and once again I'm determined to make my own from scratch. But why? What is it about these pies? What is it about making a homemade crust? What is with the despair and the frustration and the angst over bringing two pies to a fundraiser?
That moment in which I am asked to make pie, the voice of self-doubt and self-loathing starts to speak:
Voice of Self-Loathing( VoSL): Aren't you a good baker? So, what's the problem?
Me: Well, yes. Usually. I mean, I make a lot of homemade things. But, I guess I've met my match.
VoSL: Yeah, I can see that. Remember last year how your pies just didn't cut it?
Me: Yeah, I remember.
VoSL: Still going to give it a try? Won't you ever give up?
Me: This year I can do it.
VoSL: Right. Just keep trying. Every time you fail, it's more ammunition for me in the future.
At this point you probably think I'm crazy, and maybe you're right, but there's something about pie crust, something about bringing them and sharing them with everyone that hits me in a really vulnerable place. It's not really about the pie crust. I've started to see that. It's about wanting to be accepted, loved, known, and enough.
And even now, as I'm writing this post, a large part of me is afraid to share it. It's raw. It's me. It shows my crazy, my self-doubt, that inner voice of perfectionism and inadequacy that stifles me from moving forward in a positive direction. Even now, that voice of self-loathing is saying, "Don't publish this. Don't write it. If you let it out, everyone will know you don't have it all together." So, I have to write it. I can't allow that voice of self-loathing and self-doubt to keep me from embracing and fully living into who I am – flaws and all.
Deep within all of us, we have a desire to be known and loved. We long for others to see us for who we are and say that we are enough. We want to be accepted, to have a place, to fit. But, we also have flaws. Every one of us. And for the perfectionist, those flaws are our kryptonite. They deplete us and weaken us. We need to let them out, set them free, get them out of our heads and our lives, but a paralyzing fear sets in that tells us people won't accept us if they knew the truth. They wouldn't love us if they knew we were weak.
And, when all we want is to be enough, the fear of not being loved is a poison that seeps through every pore of our bodies and imprisons us.
But what we need is to let it out. We aren't worth it because we're perfect. We're worth it because every person is worth it. We're enough because we were made to be enough. The fear that we won't be loved if people knew our flaws prevents us from living into the "enough-ness" of who we are. That fear stifles us. That fear kills us, slowly.
And so this year, on the day in which I have to make pie crust, I will probably still try to make one from scratch. It's a challenge, and I hope one day I will succeed. But, if I don't, it's not because I'm a failure. It's not because I have to bake the perfect pie in order to be enough. It's because I'm not going to let it own me this year.
And…little voice of self-loathing, it's time to take a hike.