Wild Goose Festival is an experience.
It is an alternate civilization.
It is a spontaneous community.
It is completely unlike anything I have experienced before. So, as I sit here and try to blog about my experience, I feel almost unable to speak.
When words fail, I think images can take us where we need to be. And so, it is with the hopes that the photos can speak where I can't that I am sharing these snapshots of my experience in Hot Springs, North Carolina.
After checking in and setting up camp, Jeff, the kids, and I walked the dirt road into the festival. The tent city was large and expansive. The sights, sounds, colors, and smells were simultaneously overwhelming and inspiring.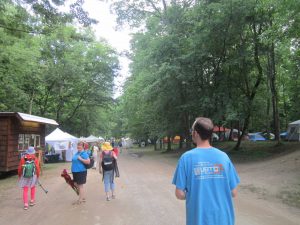 Completely disconnected.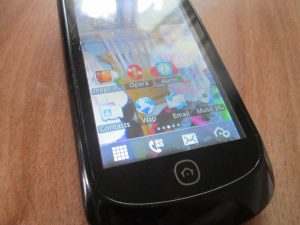 I expected there would be no internet at the festival, and I was really looking forward to it. I did not realize I would have no cell phone reception. None. Not even emergency service. So, I left all technology behind and decompressed for four days. Glorious.
We define ourselves in community.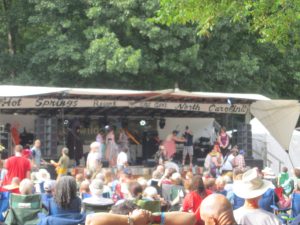 Most of the time we think we know who we are. We think we know our culture, our beliefs, our values, but as Kristen Howerton said during her brilliant talk on privilege, we don't really see our culture because "we are swimming in it."
Enter the Wild Goose.
It took me less than five minutes to see that I had absolutely no concept of how wide, vast, varied, and multifaceted the kingdom of God is. I thought I knew. I had no idea. Thanks be to God.
And, speaking of defining yourself in contrast, I learned that many people I ran into at the festival thought I sounded like I was from Minnesota or Canada. Having lived in seven states – none of them Minnesota, and never living in Canada – I found this very amusing.
Do I have time?
In an area all its own, the Carnival de Resistance was set up with children's games, displays asking provocative questions, and a large tent set up to house arts, music, and creative activities. As a musician, writer, and an Enneagram 4, it's probably no surprise to many of you that I gravitated to the carnival right away.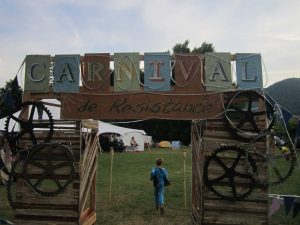 In the center of the Carnival, there was a "clock tower." It was covered with all different kinds of clocks, and many of the clocks were broken. Kids were invited to pick up a bullhorn and shout into it. One boy kept saying, "I am in charge of time!" My eyes wandered to a sign right next to the tower.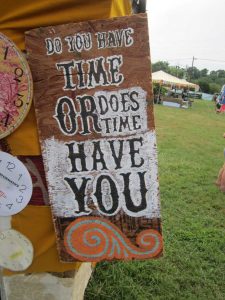 As a recovering busybody, I know full well that too often time has me. I had four days to let that realization seep inside.
The joy of a blank canvas.
On the evening of the first full day of the festival, we got to experience the carnival midway. The games were all up and running, and kids were running around and squealing with pure joy. Bubbles that looked to be suspending rainbows of colors were floating in the air. The pulsing sound of a bass and drums shook the ground. And, on a whim I decided to let someone paint my face.
I went to the face painting booth, and the woman in blue asked me what I would like painted on my face. I said, "I'm not really sure. You can paint whatever you like."
I can't even explain the look of pure joy that lit up her face. Her eyes sparkled. She exclaimed, "Ohhhhh, a blank canvas!"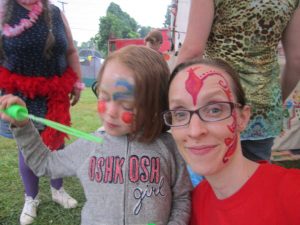 She chose something I wouldn't have even known how to ask for. She used bold colors and lines, even though I usually try not to draw attention to myself. And, I wondered how often I limit possibilities by imposing my own fears and concerns onto the creativity of others. The blank canvas is a joy, and what fills that canvas may be more beautiful than what we ever would have done within the confines of our own anxieties.
Always a minister.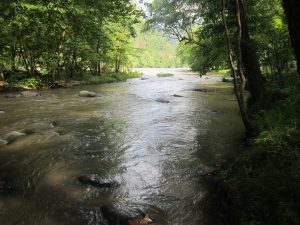 On a dark, rainy evening when a new friend is in pain and asks for a blessing, you give her a blessing that blesses you too. As a minister, I have found that "once a minister, always a minister" really means that no matter where you go, what you are doing, or what "hat" you are wearing, ministry finds you.
Of Sisyphus and flip flops in the mud.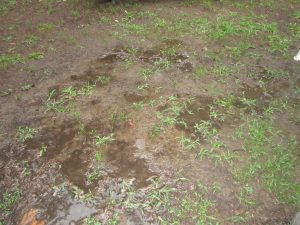 It rained. And rained. And rained some more. Mud was everywhere. In my germaphobe-ness, I insisted on trying to wear my flip flops while I walked around the campsite. My other shoes were drenched, so I was clinging to those flip flops like they were some kind of germ force field.
But, they kept getting stuck in the mud. Step. Stick. Almost fall on my face. Repeat. My new friend Anna kept saying patiently, "C'mon, April. Take the flip flops off."
And I kept at those flip flops like Sisyphus determined to roll that boulder up a hill. And then they broke. So, I spent the last day or so of the festival walking barefoot. Another new friend, Jennifer, assured me that seratonin levels are improved by walking barefoot in the soil. And, it did make me happy, so I think she's right. 🙂
Our imaginations take us where our realism can't.
Our kids were eager for a campfire, and our new best friends the Murrays had been looking forward to one, too. With all the rain, campfires weren't really happening, so we improvised with a camping lantern. And, it was lots of fun.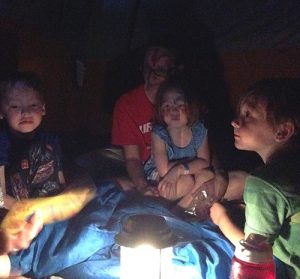 [ Photo by Micah J. Murray ] Hospitality and shelter are everywhere.
As an Iowa family not used to the unrelenting heat and humidity of North Carolina, we quickly identified the places in the camp that had water and lemonade jugs. I discovered that hospitality is everywhere, if we are looking for it. I also discovered that the hub of hospitality (for me) was the Episcopal tent. I had so many rich conversations, and many needed sips of something cool at their tent. I also hung out there (and many other tents) as I sought shelter from the never-ending rain.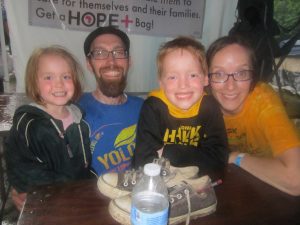 Growth, One-Liners, and New Friends.
As pastors, some of the learning opportunities we chose were very specific to our congregation. I was deeply inspired by a session I attended by David Csinos called "The Potential of Small Churches." In this session, he really named the potential I have seen and experienced in small churches, and he gave me some great ideas to use in my own congregation. I also deeply appreciated that "small churches" did not mean churches with 200 people in attendance each week. I was surrounded by people at this session who deeply love their congregation with 50 members, or 35 on a Sunday, and we all shared the ways we've seen God use our small churches to accomplish mighty things.
Even though I attended Kristen Howerton's session thinking I already knew what I needed to know about privilege, she blew me away. What an amazing breath of fresh air to hear her speak.
David Lamotte's session on songwriting actually ended up giving me a lot of insight into the preaching process. I especially loved these two bits from David:
"Amateur means 'one who loves.' If you stop being an amateur, you should immediately quit being a professional."
"Hope and optimism are two very different things. Hope doesn't mean being optimistic. Hope means you believe in something and are doing something about it."
Everywhere I turned there was music. I participated in several worship opportunities – all of them very different from each other. I received communion that consisted of pomegranate juice and flatbread. And everything around me was beautiful.
My new friend Anna taught me this: "Jesus did not say, 'Under this rock I will build my church."
Almost every man I met at the festival was named Jeff.
Involved fathers are a beautiful thing. Everywhere I turned, I saw dads playing with their kids. I watched a father begin a game where kids jumped off a fallen tree and he would catch them – his kids, and several others. I heard fathers express patience, saw them show love, and watched them beam with joy at the squeals of their kids' laughter. When these kids think of God as Father, they will have had a fantastic example in their own dads.
I finally had the opportunity to meet David Henson and Mark Sandlin, who are so genuine and kind. I watched my kids become instant best friends with Micah J. Murray's kids, and had a great time talking with Micah about the spiritual journeys we've both been on. By the way, Micah is an amazing dad and a brilliant writer. You should follow him right away, if you haven't already.
Everyone has a story, and most people are willing to share it if you enter in and get to know them.
It rained so much, and we were all so wet and muddy that eating greasy pizza in the hotel on the way home (in clean, dry clothes) was like enjoying a slice of heaven.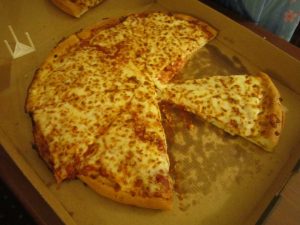 So, I guess I've been "Wild Goosed," and I'll be processing my experience for a long time to come.
Some other great reflections on Wild Goose Festival 2014:
I Learned a Whole Lot of NOTHING at #WildGoose14 – by Jeff Fiet
10 Things I Learned at #WildGoose14 – by Micah J. Murray